Professional Remodelers, Occupational Therapists and Home Builders. Are you providing accessible home remodeling and modifications for clients?
The Zack Rack, by Freedom Shelf Innovations, can help you serve them better, and create an an opportunity to generate additional revenue from both past and future clients.
Watch this video to learn more, now.
"The realization that I could just push a button, open the cabinet door and reach anything that I need comfortably from my level … my view of the world changed! "
What is Zack Rack?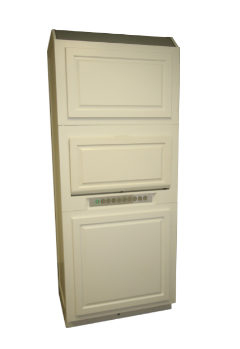 Simply, the Zack Rack is an automatic cabinet system that provides unparalleled accessibility for people at home. Specifically, your best clients.
That could be a client facing the challenges of living with a wheelchair, someone with a physical need that makes reaching and bending difficult, seniors aging in place or families who want to make their homes easier to live in.
And, the Zack Rack can be installed by Remodelers wherever your clients need to be able to get to the things they use regularly, such as kitchens, living rooms, family rooms or garages.
It can be used to store food, medicine, clothes, hobby items or nearly anything that someone would want to have access to on a regular basis.
Installation is simple, too. For a kitchen remodel, a single cabinet can be removed and slide the Zack Rack unit into that existing space.

Why Remodelers should offer the Zack Rack
As a professional that provides home accessibility solutions, you understand that the accessible market is underserved. Our goal is to help people who need this level of innovation at home by working with professionals such as yourself.
The Zack Rack can positively affect people, right in their homes. It can help them simplify their lives at home, provide greater access to the things they need and make their homes easier to live in.
The next logical step
As one of the first companies in your community to offer the Zack Rack, you can provide even greater accessibility and ease of living to your clients. This is a high-quality products that can help you give that to them.
There is no product like it on the market. Plus, when you work with us, you will have a great reason to go back to your previous customers and introduce them to the Zack Rack.
We'll help you sell it
For Remodelers, we are so convinced that some of your best clients will love the Zack Rack, that we're committed to helping you present it to your customers. We'll support your sales effort by providing resources you can use to market & present effectively to existing or new customers.
Specifically:
A printable product one-sheet, which you can laminate or hand out.
An online video demonstration that you can show anywhere.
We do this to make it easier on you to quickly show the value and accessibility the Zack Rack will bring to their lives.
Why your customers will love it
The Zack Rack can be easily matched to their homes and provides a beautiful to a (often severe) problem they want solved: access to their storage.
It can be part of a full kitchen remodel or added to any room as a single purchase install.
It is a particularly appealing product for clients who are willing to invest in the beauty and functionality of their homes.
Call us at 336-255-1312 to get started

Ready to get started? Contact us today to learn how we can help you offer this amazing product to your clients and increase your bottom line!